Up-cycled Bottle Art (presents from presence!)
It was after a house party, and seeing all those empties lying around that inspired me. Empty bottles that is! A few wine and cider bottles that were beautifully curved, with rich dark colours of green, brown and amber, made me want to keep them. So I saved them. And I requested people save theirs for me, and then I began painting them. Friends gave me ideas for themes, like zodiac signs, chakra colours and words of wisdom. I began to collect jars and tin cans also, and soon friends would be popping round for a cuppa with a bag full of goodies for me to up-cycle and delve into my passion of creating beauty from the abandoned! The biggest benefit for me is that while I'm mixing the colours and creating patterns, my mind is totally empty. I think of nothing as I observe the shades and designs merging together. It's the same with my mandala greeting cards . Blissful meditation!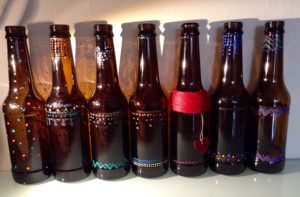 There are numerous uses for the bottles and jars, from distinctive home decoration, to vases, candle and pencil holders, to unique gifts for birthdays, anniversaries, weddings etc – I can personalise them for you with names, dates, or any wording you choose. Or you can just choose any you fancy from here .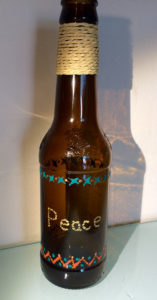 I use acrylic paint in rich, vibrant colours then bake them in the oven which helps set the paint. You can wash the bottles and jars in warm soapy water, but because glass isn't porous it's best not to use very hot water or the paint may peel.
I hope you enjoy looking my designs, if you decide to buy any of them just know they were made with love!
Namaste